Need a commercial real estate attorney in Davie, FL ? Call 954-384-6114 for commercial real estate lawyers in Davie. Serving Florida since 1989.
What Do Commercial Real Estate Attorneys Do?
What is a Florida Commercial Real Estate Contract?
A Florida commercial real estate purchase and sale agreement specifies the terms and conditions for the sale of commercial real estate between a seller and purchaser. Such terms and conditions include, but are not limited to, the sale price, financing, insurance, titles and deeds, property condition, closing date, default provisions, termination options, and representations and warranties. Depending upon the type of commercial property for sale, there may be more specific items stipulated in the real estate contract concerning title insurance, zoning ordinances, and environmental reports studies.
There are provisions within the contract for real estate agents who broker, or bring together, the deal.  For example, if there is a real estate agent that represents either the seller or the purchaser, that agent must complete a Single Agent Disclosure form.  If there is one real estate agent who assists both the purchaser and the seller, that agent must execute a Transaction Broker Disclosure Form.
Why is a Commercial Real Estate Contract Important? 
A commercial real estate contract is important because it helps to protect both parties from legal action as well as ensure both the buyer and the seller comply with any zoning laws or ordinances or any environmental studies required for the property.
What is the importance of specifying the property description in a Commercial Real Estate Contract? 
The property description section of the contract clearly lays out what is being bought. A description of the property will include the address and specific legal description .In addition, property that is also being purchased such as any improvements or built in-equipment which would be reflected in the price including property that is not necessarily built into the property such as  furniture  and machinery.
What is Due Diligence?
Due Diligence simply means that the purchaser should investigate the potential commercial property of interest prior to signing the contract. By performing due diligence, the purchaser ensures that (s)he is aware of all material facts concerning the property.  The type of due diligence performed depends upon the commercial property itself and the use of that property.  The level of due diligence may, for example, be different if  the purchaser is interested in the commercial property for investment only as opposed to actually using the property. commercial real estate attorney West Palm Beach
Top Ten Due Diligence Questions
While the following questions do not encompass all due diligence issues, prior to signing the commercial real estate contract, a purchaser should obtain answers including:
What is the real property being purchased?  Aside from the legal description, street address, and parcel identification number,  the purchaser should obtain information as to the size of the building, and fixtures that may be removed from the property prior to closing.
Are there any development rights or obligations regarding the property?
What is the physical condition of the property? Having an inspector and surveyor visit the site provides useful information as to whether the purchaser will proceed with the contract or will provide leverage to negotiate the contractual terms.
Is there a zoning or land use issue? A purchaser must know if the property will be able to be used for its intended purpose.  Zoning and land regulations may change with time; as a result, a purchaser must not assume that the seller's use of the property will remain over time.
Are there any major renovations and/or improvements that will have to be made to the property? And, if so, what is the cost?
Is there sufficient parking for the intended use of the property?
Are there any potential title issues? An initial title search will indicate whether there are any judgments, liens, or mortgages on the property.
Are there any open permits? An open permit is a title issue as any work that should be completed on the property must be completed prior to the closing.
Are there any easement or encroachment issues? A survey will specify easements and/or encroachments relating to the property.
Are there any environmental issues? An environmental study, a right granted to and paid for by the purchaser, is obtained to determine  if there is any contamination surrounding the property which may become a liability.  A commercial real estate contract will clarify the right of the buyer to perform an initial environmental assessment as well as under what conditions a more in-depth environmental assessment is required.
What is an As-Is Provision?
The "As-Is" section of a contract states that the buyer will buy the property in the condition they found it to be in after all the inspections and studies were done, which protects the seller by ensuring the purchaser  accepts the condition of the property prior to the closing. The seller's representations and warranties guarantee the purchaser that, to the seller's knowledge, there is no pending litigation or conflict on the property; however, these warranties and representations are only valid for a certain period of time after the closing. After what is known as the survival period, the seller no longer guarantees that there is no litigation or conflicts on the property, opening the buyer to possible liabilities after buying the commercial property.
Commercial Landlord/Tenant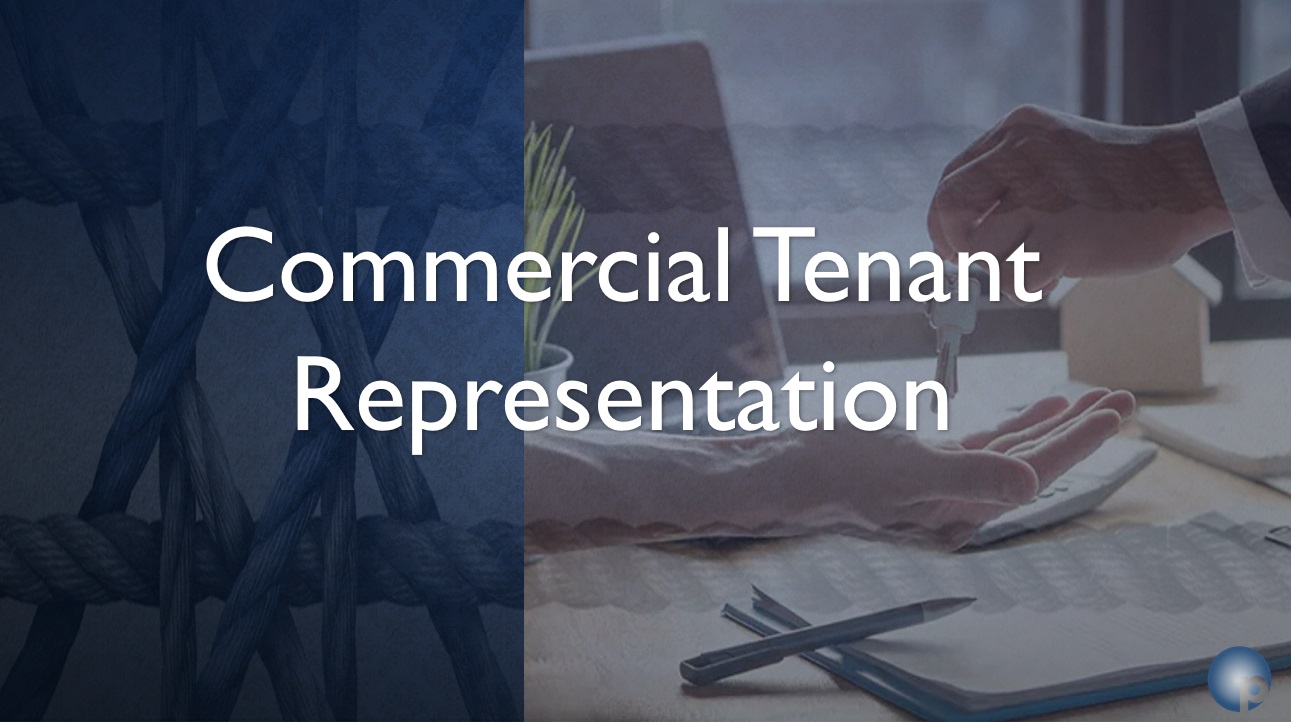 Oppenheim Law assists both commercial landlords and tenants in achieving their contractual objectives. We have over 25 years of experience in drafting and negotiating commercial leases and negotiating build-outs and concessions for tenants. We are also experienced in helping both commercial landlords and tenants in enforcing leases and defending claims of lease default.
It is fairly common for commercial agreements, including leases, to contain arbitration or mediation clauses. This means you agree that if there is a dispute between you and the landlord you will first try to resolve the conflict outside of court. Our Firm is well-versed in the trenches of alternate dispute resolutions.
Commercial Litigation
Real estate transactions are delicate matters that benefit greatly from a well-drafted contract by real estate attorneys. A contract can set in writing the expectations from both parties so that the transaction can go forward smoothly. In the case the transaction does not go as planned, the contract will always work as an instrument to help resolve a dispute. If you need assistance drafting a contract for a future sale or purchase, please reach out to us so we can assist you.
The world of commercial real estate in South Florida is a constantly evolving environment, and our commercial real estate lawyers have to remain vigilant and knowledgeable. Both novice and sophisticated buyers and sellers consistently gain the upper hand in commercial transactions when experienced counsel represents them. Oppenheim Law assists both buyers and sellers in conducting successful and efficient commercial real estate transactions. Our goal is to make sure that  our clients are completely informed as to the financial, physical, and legal conditions of the commercial properties they seek to acquire or sell. With over 25 years in the industry – and closing over $1.5 billion worth of real estate – our knowledge, strategies, and experience provides our clients with confidence in the information we obtain throughout every step of the transaction. With such confidence, our clients acquiring property are naturally capable of making more aggressive, confident, and successful offers.
On the other hand, our clients selling commercial properties also benefit from our experience by being more in tune with the true market conditions and employing strategies that maximize the value of their properties. Our Firm also facilitates transactions concerning commercial REO and auctioned properties.
As a full service commercial real estate law firm, Oppenheim Law offers all legal services to prepare properties for disposition including:
Lien Issue Resolutions
Tenant Issue Resolutions
New/Existing Negotiations
Survey Issues
Appraisal Issue Resolutions
Mold/Chinese Drywall Issues
Title Examination
Our attorneys at Oppenheim Law represent clients in a wide variety of commercial and business law matters involving business disputes and torts, intellectual property, and breach of contract. We also represent parties concerning their relationship with corporations, partnerships, and other business entities. We have diverse experience navigating highly complex cases in state and federal courts, and on arbitration panels. We represent clients in business-to-business and consumer-to-business disputes. Our clients are individuals, and business entities from a wide variety of industries, including financial services, energy, banking, insurance, and real estate.
Business transactions are governed by state and federal law. While some may rely on a handshake to solidify an agreement, written agreements which define terms and conditions of the transactions between the parties, if done properly, avoid costly misunderstandings later. Transparency clarifies the intentions, rights and duties of the parties involved, minimizing the potential for disputes.
In Florida, oral contracts or verbal agreements are subject to evidentiary vulnerabilities and statutory restrictions, such as invalidating certain oral contracts regarding real estate. At Oppenheim Law, our attorneys routinely counsel clients in the preparation and review of written contracts, as well as vigorously defending or, alternatively, bring action when the terms of that very agreement are not met.
What is Commercial Litigation?
Commercial litigation refers to practically every type of dispute that can arise in the business context including claims contracts, employment, insurance, and financial services when either there is no written agreement or, in the alternative, when one party does not fulfil the obligations of the contract.
Real Estate Disputes
Our firm has experience in  real estate related litigation concerning disputes over the sale of real estate as well as restrictions in deeds. Sometimes a party to a residential or commercial real estate transaction may want to not pursue the contract. There may also be an intervening, unforeseeable events that may occur alleviating the parties of  their contractual responsibilities. The real estate contract must be reviewed in order to analyze the clauses if already written or, in the alternative, to proactively protect a party in drafting the contract from "what if" events.
An emerging area within real estate litigation is how the courts will ultimately interpret force majeure language in real estate contracts  due to the current COVID-19 crisis. Force majeure clauses are key in determining whether a party is allowed to delay performance or actually get out of certain obligations in the event of unforeseen or uncontrollable events which make performance of the underlying obligation commercially impracticable, illegal, or impossible. This pandemic has enabled purchasers and sellers to delay and/or enforce parties to close. However, force majeure clauses may not have specified a pandemic as a reason to enable the delay.
Business Disputes
Although the potential can be significantly minimized with effective contracts, business disputes are inevitable. They can also be costly; and disruptive to business operations and morale. Streamlined policies and procedures governing day-to-day interactions and transactions help reduce the possibility of disputes. An employee termination policy can, for instance, help refute claims of discrimination. Similarly, obtaining a waiver from a customer can offer protection from a liability claim in the future. Parties may even agree to bypass the court and go to arbitration or mediation instead of undergoing costly litigation.
Yet, there are many types of business disputes for which litigation is the only answer to resolve the dispute if one of the parties refuses to entertain a settlement or if the underlying dispute is so  egregious that the case requires judicial intervention. Such business disputes may involve employees, vendors and/or customers, or partners.
A typical claim will allege the formation of an agreement between parties; failure of performance under the agreement; and resulting damages. Breach of contract claims are subject to many defenses, including mutual mistake, impossibility of performance, failure of consideration, lack of privity, waiver, estoppel, Statute of Frauds, and unconscionability.
Our firm is also frequently involved in litigation either on behalf of management or individuals in the interpretation of non-competition agreements. We have represented individuals who were sued for breach of contract. In one case, a plaintiff sued a close family member for breach of an oral contract for shares of stock which allegedly took place over twenty (20) years ago. Under the Statute of Frauds however, oral contracts must be performable within a year. Since the stock would not mature for at least three (3) years, we asserted that any claim of an oral contract was void under the Statute of Frauds.
Business Torts
Commercial litigation includes business torts which tend to be more complex because there is  the risk of punitive damages and reputational harm.
What is a business tort?
Also known as an economic tort, a business tort is generally defined as an unlawful act committed against a business that prevents the business from operating as it otherwise would. The unlawful act is often intentional, but it may also be a result of negligence or recklessness. Injuries incurred as a result of business torts include the loss of clientele and business opportunities, reputational damage, and inability to stay in business.
The following are some of the most common business torts:
Tortious Interference
Typically, a claim for tortious interference will involve a contract or business relationship. To prove tortious interference, a party must show that defendant knew about a valid contract or business relationship between two parties, intended to disrupt the parties' relationship, and by disrupting the relationship caused the plaintiff to suffer financial losses.
Intentional or Negligent Misrepresentation
A business owner claiming last year's profits were $50,000 greater than the actual profits, in order to induce the sale of the business is liable for intentional misrepresentation, also known as fraudulent misrepresentation. Business fraud involves one party knowingly making false statements to another person, or intentionally omitting information that should have been conveyed to another person during the course of a business transaction. On the other hand, a business owner's claim that profits were $50,000 greater than the actual profits without reviewing the financial records, in order to induce the sale of the business, is liable for negligent misrepresentation. A victim must show that it justifiably relied upon either the intentional or negligent misrepresentations of another and suffered actual pecuniary loss. The victim must have relied on the false statement or omission to act or decide related to the transaction. Victims of fraud can recover a variety of different types of damages including punitive damages.
Breach of Fiduciary Duty
A fiduciary duty is a duty of care and loyalty owed by one party, the fiduciary, to another party, the beneficiary. Fiduciary duties commonly appear in the context of contracts, trusts and estates, securities, investments, and corporate governance agreements. For example, estate administrators, brokers, corporate officers and managers, and professionals are often fiduciaries. When a fiduciary does not act in the beneficiary's best interests and the beneficiary suffers monetary loses as a result, (s)he  may be entitled to recover damages.
Civil Theft
A business that is the victim of theft can seek financial restitution and recover triple the amount of damages, as well as attorneys' fees. Conversion is similar to civil theft, but it does not require a party have an intent to permanently deprive the rightful owner of their property.
Civil conspiracy
Civil conspiracy occurs when two or more parties agree to act together for purposes of committing an unlawful act that causes economic harm to another party. Generally speaking, conspiracy occurs in combination with a separate tort, such as fraud. In a civil conspiracy, each conspirator is liable for the torts of other co-conspirators.
Defamation
Businesses rely on reputation. If this is harmed through a false and damaging statement, the business can sue the party that made the statement to recover financial losses. Defamation includes spoken statements and published statements. False and damaging statements made about a business or commercial disparagement, intended to discourage others from dealing with the business are grounds for defamation. A defamation claim is only actionable if the statements in question are false. True statements, although they can damage a business, are considered protected speech.
Money Damages; Injunctive Relief
Businesses that sustain injuries through the intentional or negligent acts of another business or individual can seek monetary and injunctive relief in the civil courts.
Calculating loss is complex. Although damages must be calculable with reasonable certainty, economic losses are usually projections including damages for the loss of goodwill.
Civil courts can also issue injunctions ordering the cessation of the certain unlawful activities or practices.  For instance, a former employer can seek an injunction to prevent a former employee from contacting its customers based on a non-compete clause in the employment contract; and from using unlawfully obtained proprietary information to obtain a competitive advantage.
Our team at Oppenheim Law provides comprehensive legal representation to you. We understand that there are legal issues affecting you and your business that are not simple. We are here to represent and advise you when you may become involved in a lawsuit or appeal because of a commercial dispute. While we strive to accomplish resolution of your matter before allowing undue legal fees, our goal is to also represent you vigorously, achieving the best resolution possible.
Should you be involved in any type of commercial litigation matter, please feel free to contact us online or give us a call at 954-384-6114 and we will be and we will be glad to respond to your inquiry.
Oppenheim Law | Commercial Real Estate Lawyers
954-384-6114

Zip
33024 33312 33314 33317 33324 33325 33326 33328 3333033331 33345 33355