Looking for a Breach of Real Estate attorney in Sunrise, FL? Call 954-384-6114. Breach of real estate contract attorneys serving Sunrise and surrounding areas.
Real estate disputes often arise because a party to the transaction has committed a breach of contract. A common dispute is when a seller wrongfully refuses to transfer title to the buyer or when either the buyer or seller has defaulted on a purchase agreement or other contract in connection to the real estate transaction. Unless otherwise limited by the legal document, there are four basic remedies available to the wronged party.
Money Damages
In Florida, a buyer who breaches a sales contract may be liable to the seller for monetary damages. This is usually calculated as the difference between the contracted price and the market value (minus any deposits or other monies the breaching buyer has already given to the seller). The seller may alternatively bring an action for specific performance (described below). However, specific performance is usually more effectively used by a wronged buyer than by a wronged seller, the reason being that a breaching buyer will simply claim that he cannot financially satisfy a judicial decree requiring him to purchase the subject property.
Termination of the Contract
In some cases, the best remedy to seek is termination of the contract. This usually involves the buyer being refunded his or her deposit as well as expenses incurred during the failed transaction such as attorney fees, survey fees, title inspection fees and other costs of examination.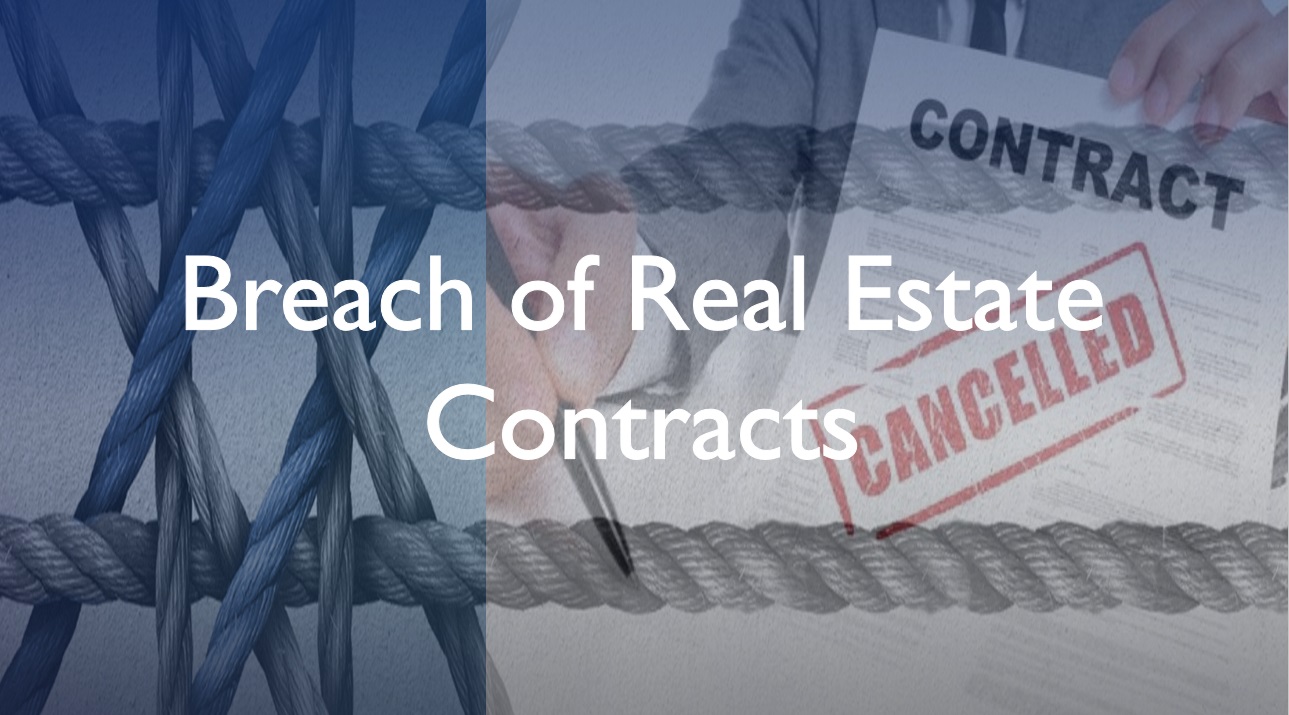 Specific Performance of the Contract
An action requesting specific performance involves a party asking the court to force the opposing party to perform their contractual obligations. A judge ruling that the seller MUST sell the house to the buyer is an example of specific performance being used as a remedy.
Liquidated Damages
Parties to a contract may want to agree in advance as to the amount that will be owed by a breaching party. This amount will be set forth in the contract and will not be disputed if a breach occurs. These are called liquidated damages. However, in order for liquidated damages to be enforceable, they cannot act as a form of punishment against the breaching party. Additionally, liquidated damages will usually only be enforceable if it is determined that calculating actual damages for the particular breach at issue is difficult and the liquidated damages are reasonable under the circumstances. An example of liquidated damages can be found in a standard residential sales contract that states that if the buyer fails to perform his/her obligations under the contract, the seller is entitled to keep the deposit.
Have an Experienced Real Estate Attorney
It is important to have an experienced attorney, capable of formulating a winning strategy to handle your breach of contract case. Breach of contract cases are filled with obstacles. We will work with you, side-by-side, to help ensure you receive proper compensation from the wrongdoing of a buyer or seller. Our Breach of Real Estate Contracts Lawyers serve Sunrise, Broward County, Miami-Dade & Florida State.
Please contact us online or by phone at 954-384-6114 to schedule a consultation.
5 Convenient Locations
Oppenheim Law | Weston
2500 Weston Road, Suite 209
Weston, FL 33331
Tel 954-384-6114 | Toll Free 888-384-6114
https://www.oppenheimlaw.com
Oppenheim Law | Boca Raton
7777 Glades Road, Suite 100
Boca Raton, FL 33434
Tel 954-384-6114 | Toll Free 888-384-6114
Oppenheim Law | Fort Lauderdale
500 East Broward Boulevard, Suite 1710
Fort Lauderdale, FL 33394
Tel 954-384-6114 | Toll Free 888-384-6114
Oppenheim Law | Miami
701 Brickell Avenue, Suite 1550
Miami, FL 33131
Tel 954-384-6114 | Toll Free 888-384-6114
Oppenheim Law | West Palm Beach
515 N Flagler Dr, Suite P-300
West Palm Beach, FL 33401
Tel 954-384-6114 | Toll Free 888-384-6114
MAIN OFFICE